The Global Pharma Health Fund (GPHF)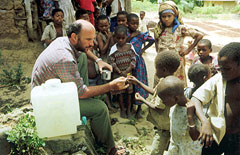 The Global Pharma Health Fund (GPHF) is a charitable organization initiated and funded exclusively by donations from Merck Germany.
Within international development assistance, the GPHF aims to improve health care and medicines supply, the work currently supporting the fight against falsified and substandard medicines proliferation using its GPHF-Minilab™.
The GPHF-Minilab™ is a mobile mini-laboratory that helps in the detection of counterfeit medicines. It enables health facilities responsible for drug procurement, storage and distribution to protect themselves and patients against the danger of counterfeit medicines consumption.
Well above 900 Minilabs have been supplied to health facilities in 99 countries already.