27-Jun-2012
Tanzanian Food and Drugs Authority receives four unique mobile compact laboratories
To help combat counterfeit medicines in Tanzania, GPHF (the Global Pharma Health Fund), a charitable initiative funded by the German pharmaceutical, chemical and life science company Merck, presented four mobile compact laboratories to Hiiti Sillo, the head of TFDA (Tanzanian Food and Drugs Authority)in Dar es Salaam today. The TFDA is part of the Tanzanian Health Ministry.
Also called Minilabs, are part of a donation to the Tanzanian Health Minister announced in February, this year. These Minilabs are globally unique and ensure better quality control for medicines especially in rural and far-flung areas.
"TFDA is currently in possession of 11 Minilabs that are used for screening medicines at different ports of entry, at the hospitals and retail shops, including pharmacies. This will indeed help TFDA to eliminate substandard and counterfeit medicines from the public," said Hiiti. "One Minilab is worth about 7, 9 million Tanzanian shillings (around €4,000), but the most important value is to improve healthcare," explains Klaus Boehm, Managing Director of Merck in South Africa.
"Essentially, these Minilabs will also ensure that scarce resources are not wasted on these dangerous medicinal scams. Our modest contribution certainly will save lives of many unsuspecting people," Boehm added.
Interpol estimates that 10% to 30% of all medicines in Africa are counterfeit or of inferior quality. In this context, GPHF Minilabs offer rapid, easy and low cost test methods to check medicines for external abnormalities and identifies 57 active pharmaceutical ingredients which are generally used for antibiotics, anthelmintics, virustatics, anti-malarial medicines, tuberculostatics and other medicines, particularly used for infectious diseases.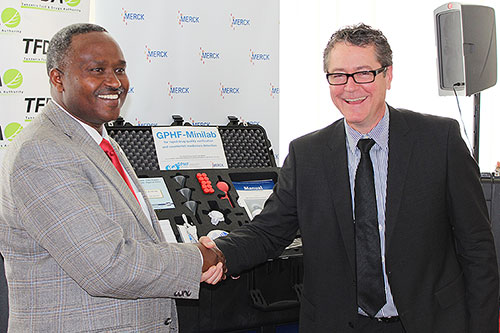 On behalf of the Global Pharma Health Fund e. V. (GPHF) Klaus Boehm (Merck South Africa) presented the minilabs to Hiiti Sillo, head of the Tanzanian Food and Drugs Authority.
« back