03-Aug-2012
Ten Mobile Compact Labs to Detect Counterfeit Medicines Presented to Angola

Frankfurt, August 3, 2012
Yesterday, the Global Pharma Health Fund (GPHF) donated ten compact mobile laboratories to the Angolan Ministry of Health. The so-called GPHF-Minilabs can be used to identify inferior and counterfeit medicines rapidly and reliably. They will be the first Minilabs ever in the country. In this context, Dr. Fritz Sacher, General Manager of Merck Portugal, met with the Minister of Health of Angola, Honorable José Vieira Dias Van-Dúnem in Luanda. Each Minilab is worth around € 4,000.
"Counterfeit medicines are a serious threat to health care in many countries, here in Angola as well," said Dr. Van-Dúnem. "Therefore, the Minilabs will make a valuable contribution to quality control of medicines." Dr. Sacher added: "With the Minilabs, we are directly protecting people from what can be a deadly risk. In addition, we are helping to improve the structures for drug monitoring and ensuring that scarce resources are not wasted on worthless, and even hazardous, medicines." Frank Gotthardt, Chairman of the GPHF, explained the advantage of the two suitcase-size lab units: "Many Counterfeit medicines have no therapeutic benefit or sometimes even contain harmful substances. The GPHF Minilabs are globally unique in their ability to detect such counterfeits quickly, cost-effectively and reliably." The International Criminal Police Organization Interpol estimates that 10% to 30% of all medicines in Africa are counterfeit or of inferior quality.
The GPHF has specifically developed the Minilab for use in regions with a simple infrastructure. The rapid analyses do not rely on external power sources and normal drinking water suffices for the experiments. So far, the GHPF has donated the Minilabs it developed to more than 80 countries or delivered them at cost; approximately half of the 500 compact labs are being used in African countries.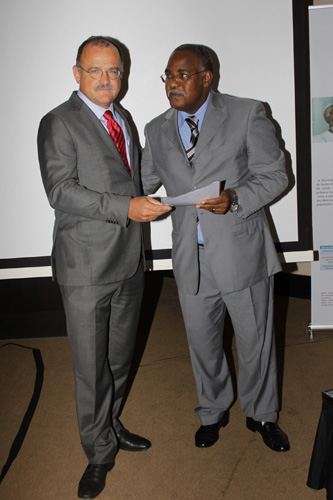 Dr. Sacher handed the donation to the Minister of Health of Angola, Dr. Van-Dúnem
« back