19-Nov-2007
A GPHF-Minilab
®

for Africa instead of Christmas presents

A portable, compact laboratory to safeguard against counterfeit drugs has been made available specifically for developing countries by the Global Pharma Health Fund e.V., an initiative of Merck, Darmstadt / CONCEPT HEIDELBERG donates laboratory for use in Ghana

The counterfeiting and distributing of counterfeit drugs has developed into a serious and global health problem. Thousands of people have already fallen victim to unscrupulous counterfeiters because pills and injections contained only sawdust or water instead of a declared active ingredient. Most affected are those in countries in Africa and Asia. But even in North America and Europe, the signs are increasing that unprincipled racketeers are attempting to put their counterfeits – primarily via the internet – onto the market. To protect people from the deadly danger of counterfeit drugs, the GPHF-Minilab®, a globally unique, portable laboratory for the identification of counterfeit drugs, was developed.

The GPHF-Minilab® is made available by the Global Pharma Health Fund e.V. (GPHF), which is supported by Merck in Darmstadt. In the fight against the counterfeiters the GPHF now receives assistance from CONCEPT HEIDELBERG, Europe's leading advanced education and information service provider in the area of pharmaceutical quality assurance and drug safety. CONCEPT HEIDELBERG will forgo Christmas presents this year and will instead donate a GPHF-Minilab® for use in Ghana. The Chairman of the GPHF, Dr Jürgen Knackmuß, personally thanked Oliver Schmidt, General Manager of CONCEPT HEIDELBERG, for this generous and exemplary commitment during a visit to Heidelberg. He also informed him that the donated laboratory is already on its way to Africa and will shortly report for duty as part of a health project of the Catholic Church in the West African country.

The GPHF-Minilab® has proved to be an extremely successful tool in the battle against substandard and counterfeit drugs in past years. By now 267 laboratory units are in service in 65 countries. The emphasis is on the countries of Africa and Asia, which are particularly affected by the machinations of the drug counterfeiters – not least because in many of these countries the conditions for effective drug monitoring are absent.

Into this gap steps the GPHF-Minilab®, whose simple test methods now enable quick and reliable analysis of 43 active pharmaceutical ingredients that are primarily used in developing countries. In a short timeframe it is possible to detect if a drug really contains the declared active ingredient in the correct quantities. As part of numerous health projects, including those of the World Health Organisation, the GPHF Minilab® has developed into an important building block in local drug monitoring.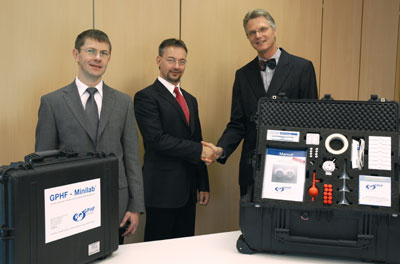 Dr. Jürgen Knackmuss, (Chairman of the GPHF, right) thanks Dr. Andreas Mangel and Oliver Schmidt (left to right) of CONCEPT HEIDELBERG for the generous donation.
« back